Honda Grand Prix St. Pete Trophy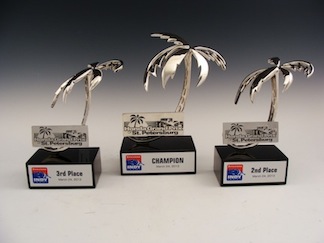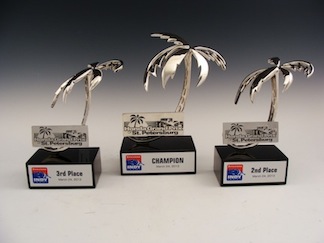 Honda Grand Prix St. Pete Trophy
Bennett Awards designed and produced unique custom trophies for the Honda Grand Prix St. Petersburg. This is the first race in the IZOD IndyCar Series, the premier IndyCar series in the U.S. and Canada.

Bennett Awards worked closely with the race organizers to create custom awards that utilized the race's logo, which features a palm tree and Indy Car.
This unique recognition award design incorporates a palm tree sculpture and plaque featuring the race's logo attached to the lower base of the trunk, which is designed to convey a race track. A plaque with the name of the race and the recipient's place of finish is attached to the award's black marble base.
These custom achievement trophies have been in use since 2009, when the award design was initially created. Trophies are typically given to the top 3 finishers of the race. These trophies are designed and produced in different sizes: the champion receives the largest trophy, and the 2nd and 3rd place finishers receive smaller awards.