ViSalus Corporate Achievement Awards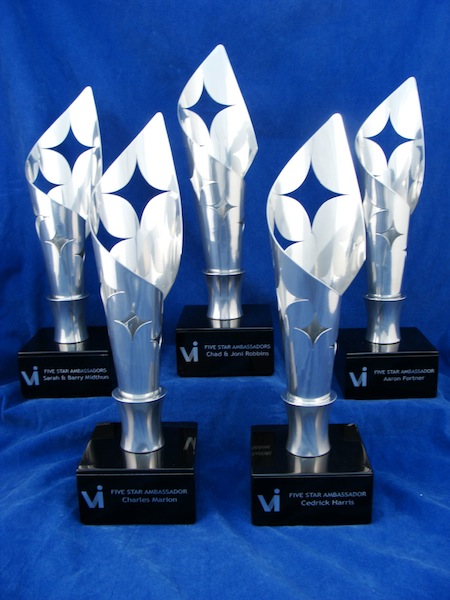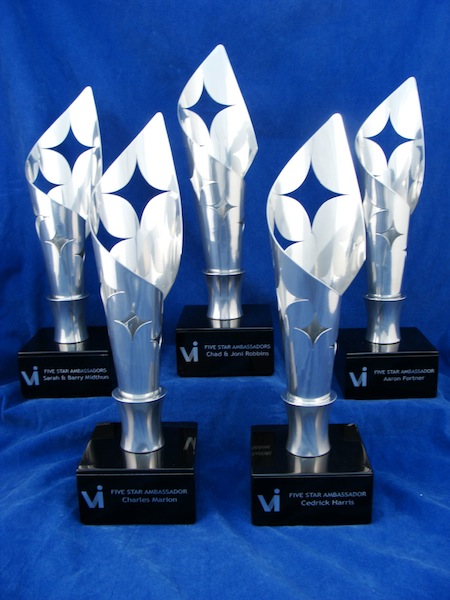 ViSalus Corporate Achievement Awards
Bennett Awards recently created a set of custom corporate awards for ViSalus, the number one direct sales company in North America. ViSalus commissioned Bennett Awards to create a family of three unique recognition award designs, each designed to recognize a different level of achievement within the company. These achievement awards are given to ViSalus associates who achieve specific corporate goals, including sales targets, recruitment, and associate training.
Each of these distinct recognition trophies corresponds to a different level of rank and achievement within the business. All of these custom award designs incorporate key, differentiated aspects of the ViSalus logo and corporate icons. The Five Star Ambassador award features a torch image with cut-outs of the ViSalus star. This trophy sculpture is created out of a laser-cut aluminum alloy with a chrome-plated finish. The Royal Ambassador award uses a solid sculpture of the ViSalus star as its centerpiece, and surrounds it with a circle engraved with the award and company name. This sculpture award is cast in pewter, and features a combination of brushed pewter and high polished pewter finish. The Crown Ambassador award features, appropriately, a large, geometric ViSalus crown, with the ViSalus stars at the top of each crown point. This trophy sculpture is also created in pewter, and also feature the combo brushed and high polished pewter finish. All of these custom trophies are mounted on black marble bases with personalized, silver-fill engraving of the award name, recipient name, and ViSalus logo.
Founded in 2005 with headquarters in Los Angeles, CA and Troy, MI, ViSalus is the company behind the Body by Vi™ Challenge, a 90-day health transformation platform. ViSalus champions personal victories and entrepreneurship through a social marketing model, premium products, and global community culture. ViSalus is majority-owned by Blyth, Inc.